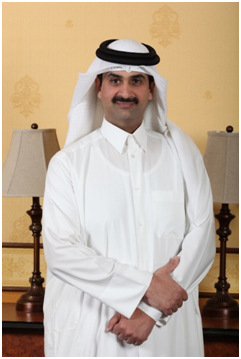 SHEIKH AHMAD BIN NASSER AL THANI
Sole Agent of Mazda Motor Corporation in Qatar


NATIONAL CAR COMPANY founded by H.E. LATE SHEIKH NASSER BIN ABDULLAH AL THANI is an associate of NASIR BIN ABDULLAH & SONS GROUP, a well established business group with a long and committed history in the State of Qatar. Established in 1966, with humble beginnings, National Car Company have now grown into a multi-franchise automobile company with leading brands under its fold in passenger cars, commercial vehicles, heavy equipment and allied segments.

National Car Company became the sole agent for Mazda brand in 1972 and have over the years contributed significantly in establishing the strong Japanese brand through an efficient network of sales and aftersales facilities as well as a strong team of qualified and skilled personnel.

National Car Company has been instrumental in the steady growth of Mazda brand in Qatar through innovative sales and marketing efforts and dedicated customer care initiatives. National Car Company have been consistently winning best performance awards from Mazda Motor Corporation, Japan for outstanding sales performances and brand value management.
Mazda Showroom is located in Fereej Al Nasr where the whole range of SEDANS,SUVs and PICK UP vehicles are on display in a spacious showroom which is open 7 days a week.

The state of the art showroom with more than 1500 sq. meter area is well connected by main roads to all residential and commercial areas in Doha and has excellent access to highways leading to industrial areas and satellite cities in Qatar. The elegant and spacious showroom offers a unique experience for the customer through a well-designed and branded display of the new generation models along with the latest amenities and an expansive car parking area.

To deliver reliable and convenient after sales service for Mazda customers, National Car Company operates a Quick Service Centre which is conveniently located at Al Dhiya Street near the Ramada Intersection in C ring road.

The main service and parts centers are located on Street No.16 at the Industrial area in Salwa. The well-equipped facility with service and maintenance workshops besides the body shop, has the latest tools and electronic diagnostic systems along with well trained technicians and customer service staff. The staff is regularly updated on the latest technologies in a modern training centre accredited by Mazda.
National car company receives sales performance award for 2015-16